During the last 20 years the use of flexible intermediate bulk containers increased considerably, especially in industrialized countries.
The main reasons for this development are to be found in the simple filling procedure, transport, storage and discharging in comparison with small bags, other receivers and silos. The basic material of containers is polypropylene or polyethylene. The filling capacity can progressively vary between 500 and 2000 kg. To ensure a very safe transport, the flexible bulk containers are designed with a safety factor. The importance of containers is emphasized by the fact that in Europe each of the important manufacturers produces some millions of bags. In addition there are several smaller societies specialized in the production of tailor-made containers. The market development is essentially based on the more and more intensified mechanization. A further aspect drawing the attention to the use of flexible bulk containers is the multicolour design, i.e. the bags can be printed on both sides. Also the transport loops can be manufactured in different colours. This production variety offers the customers the possibility of individual design of their containers.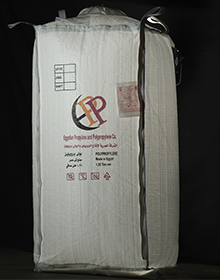 Generally the intermediate flexible bulk container is a conventional means of packing which can be transformed into an individual one by changing its design.
ADVANTAGES OF THE CONTAINER BAG

Low cost of packing with regard to the filling capacity.

Quick filling and discharging.

Due to their transport system the containers can be easily handled and the loading and unloading 
time are considerably reduced.

Low weight of packing for transport. 
With a minimum material requirement of polypropylene or polyethylene a high strength is achieved, which in addition includes a 5 to 10-fold safety factor, i.e. the bags are suitable for the 5 to 10-fold nominal load. They are also tested for this value.

In discharged condition transport of the containers is very space-saving.

Especially the single trip containers ensure their profitability due to the low material requirement as 
well as production cost and therefore justify the single-trip use.

Flexible bulk containers can be used for final and intermediate storage even in the open air.

In addition storage is rather easy, as they can be put one above the other thus ensuring a low space 
requirement. Pallets are not necessary. Therefore storage and transport costs are remarkably 
reduced.

Containers have a good chemical and organic resistance due to the use of polymeric synthetic 
resins.

The flexible bulk container is an ecological product, because it can be recycled.